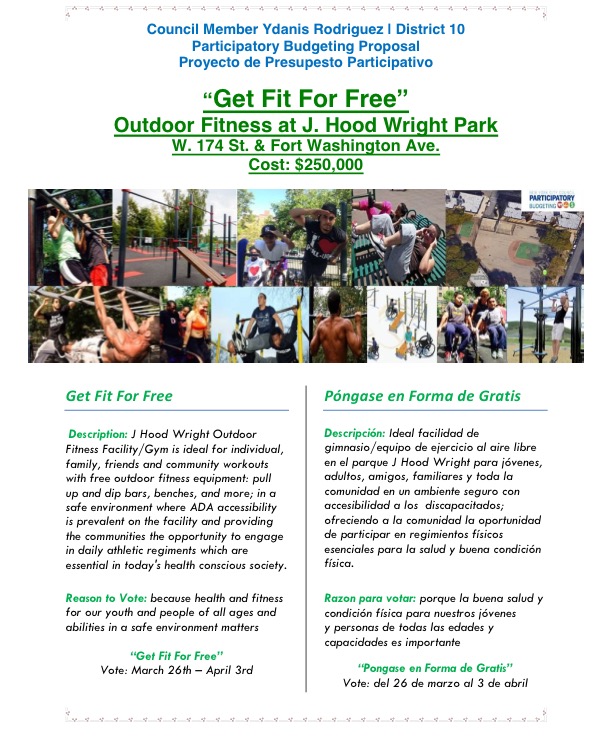 Hello everyone, I hope you are doing well. For those of you who have been following us since last year will remember when we were campaigning for a new park to be built in our home base neighborhood of Washington Heights, New York City. Our local government organizes a competition where the residents of the neighborhood can vote for which projects should be publicly funded. They work within the surplus they have. Last year we grabbed the most votes and got a fitness park approved by the hudson river.
This year the "Participatory Budget Election" is back. We are now asking for 1 park to be renovated and another to be created. This is a very targeted post hoping people from the upper part of Manhattan and the Bronx will come out and vote. But its also an example of what people who don't have a park in their community can unite and petition their local government to spend the money on the things the people want. We get messages all the time of people who envy the parks we have in our videos. The way you get these parks built is by becoming involved. Google your local representatives and write them. You most likely are paying taxes, taxes that go to public service. A fitness park is a form of affordable healthcare. The expense of the park is much less of what it is to treat an individual for a preventable disease, a disease that can be prevented through having a free gym in your neighborhood aka a fitness park. I know it seems difficult but we've received stories from all over the world of people taking our advice and being involved. Write their local reps, start petitions, start facebook pages uniting the local sports enthusiast. Go to the council meetings, let them hear your case. It can be done, and it can be accomplished. We hope you draw inspiration from our story.
Now for everyone from Washington Heights, The Bronx, or you have friends from either neighborhood please urge them to come out and vote. 14 Years old and older are eligible. Each voter can select up to 5 projects listed on the voting ballot (see list of projects in attachment). 2 of the projects which will have a big and positive impact on our youth and community are project (8) Get Fit for Free and (9) Repair and Fitness Area: Sunken Playground.  Both projects support the community by providing fitness and/or sports facilities for the community in a safe environment.  In addition to these projects, the community has options for other projects to choose from.
I encourage the uptown bar community to promote and support these projects and participate in this democratic process where our community members directly decide how to spend part of NYC's capital dollars. If possible, please post and distribute the attached posters.  Also, please forward information and attachments to other organizations in our community.