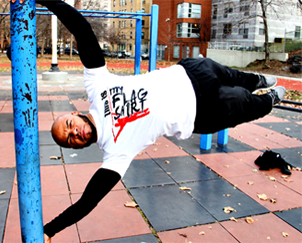 Our newest video features crossfit owner Crystal Iglesias. She owns Crossfit Giant in New Jersey. After giving birth to her son she felt like she gaining weight for the first time in her life. This motivated her to get started with fitness and her first form of working out was Crossfit. On her path of always searching and learning she discovered Barstarzz. First the youtube channel and than the instagram page. Crystal reached out to us and started coming to our group classes. She described her first experience as coming into the park thinking she was strong. She had pretty good lifts at crossfit and even had a good hold on what she considered strict pull ups. After the workout she was humbled and realized her strict pull ups weren't that strict. She describes it as having a slight kip that she didnt notice before. Our training consists of really strict pull ups. Up and down, no curve in the body, no movement of the legs to perform the movement.
She also had a ripped aesthetic body coming from her first bikni competition. She figured having a strong six pack meant she had a strong core. This was put to the test after learning the front lever progression and back lever progression. She again was humbled and realized that their is not a strong coloration between a six pack and core strength. Since then thought feeling challenged she stayed consist and kept coming, and kept learning. She has since learned the muscle up, and many other movements including freestyle moves. She used what she learns and shares it with the crossfit community. She felt like Barstarzz training has upped her crossfit movements as well and even helped her lifts. The crossover she felt was amazing.
From this you can the jewel to always keep a open mind. Explore, learn, and venture out. You never know what your missing.